Hidden Pond's Official Trainer – John Bellocchio
We have a search and rescue clss scheduled for June 10th to the 15th. The class includes lecture and field training. Upon completion of the class the dog and handler will be eligable to take the test  for their SAR tech III certification. For a short time we at Hidden Pnd Kennel  are offering this class for FREE to all veterens, law enforcement, and first responders in honner of Memorial day.  There are a limited number of openings available. We offer specialy bred dogs for search and rescue work, or you can use a dog you currently own.
Now offering  all types of dog Training  to all folks who live in Northern NJ, Long Island, the NYC Metro Area, Northeastern PA and the Hudson Valley 
Why search and rescue dogs? A true story.
Many years ago my brother, who lives in California came home to find his long time partner was not there. While not a common occurrence it was not to surprising as they lived on a ranch in the wine country. With streams and red wood trees it was certainly a beautiful place to go for a walk. As the day turned to evening the tension increased and when he didn't return home by night fall the worry and panic had settled in.
With no sign of him no word form neighbors the authorities were called in. As is normal in this type of situation the first place the police inquired was to the possibility of fowl play by my brother. Upon due investigation this was ruled out as the likely cause of the disappearance. The next procedure was to look for a lost or possibly injured man. Unfortunately this was a difficult task as they lived in a rural area with few people and lots of open country of mountains, valleys, woods, and fields. There were many ravines and rough terrain making the searching very difficult.
The authority's found no trace of my brothers missing partner. This is when that awful devastating feeling of helplessness comes upon those who are missing a lived one. The not knowing where, not knowing if, not knowing why, not knowing how. There is no relief from from these questions. The days go on but the torment of the questions never leave as you try to function day to day. You can think of nothing else, wish for nothing else, pray for nothing else other than to know the answer to the questions. Day after day, week after week, month after month relentlessly with no answers.
Then on a Saturday morning there is a knock at the door. A group of strangers are standing there with a couple of dogs. They ask for permission to try to find the man missing for six months. They ask for a piece of clothing that were definitely worn by him. They are given a pair of pajama pants. The dogs are given the pants to get the sent and then told to "go find". Six months of rain,wind, sun, six months of plant growth how could they follow any type of scent trail. This is why we train search and rescue dogs. The dogs led the handlers directly to where he was. In a deep ravine in a wooded area the dog went directly to the body. The other dog went directly to the walking stick a few yards away that he had been using.
Everyone always hopes for the best of possible outcomes but the relief of finally knowing is almost palpable. The healing and closure that these volunteers and there dogs brought was of such a benefit that it makes all of their time, effort, and money spent well worth it. Without them we still would not know and the questions would still persist. Thank you for all that you did.
Choosing Labrador Puppies for Search and Rescue
While every Labrador bred by Hidden Ponds comes from an outstanding pedigree, all Labrador puppies bred for search and rescue are adequately evaluated for their natural drive, nosework ability, and natural agility prior to being chosen for the Academy. Because these characteristics are highly prevalent in this breed, Labradors are often in high demand as search and rescue dogs.
Once trained, our Labradors will be used by law enforcement, fire departments, and other first responders, as well as those individuals and groups who volunteer to use search and rescue dogs when people are in need.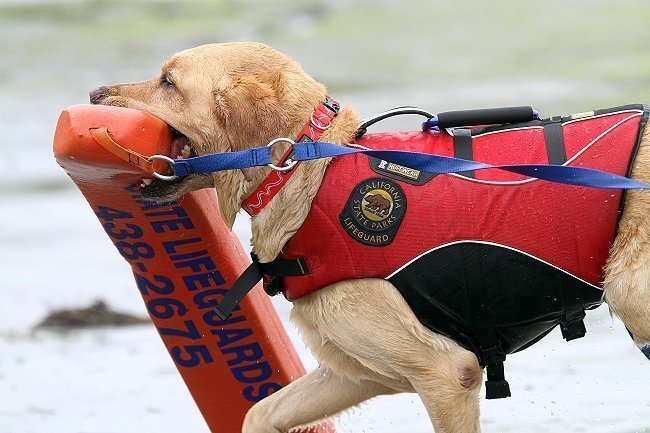 More about the K9 Search and Rescue Academy
Hidden Pond Labradors is pleased to partner with John Bellocchio, who will be running the K9 Search and Rescue Academy. John is a highly-trained and credentialed search and rescue trainer, having reached the highest levels (SAR Tech III, FEMA Integrated Management Systems Certifications, etc.) of certification.
As you consider purchasing a Labrador search and rescue dog form Hidden Pond Kennel and signing up for the Academy, understand that search and rescue training focuses heavily on the commitment of the handler. We will give you the basics, but working with your future team, being a committed lifelong student to the changing needs of search and rescue and focusing on new local and state mandates will preserve your viability in the field.
The main components of K9 search and rescue training through the Academy will be:
Nosework:  Labrador search and rescue dogs must learn how to keep their nose to the ground, follow a trail of scent, and be properly rewarded for it.  As serious as search and rescue itself is, for the dog, it is often a game of sorts – "I find the target, I get a reward!"
Agility:  Search and rescue dogs do not have to have the same abilities as a competing agility dog, but both the Labrador and the owner need to learn the confidence to go through thick brush, over logs, and through mud and moving water.  A confident owner leads (literally) to a confident K9 – this will be a major focus of the learning we do.
Using and reading a compass:  We will explore the basics of compass usage – true north vs. magnetic north, etc.  Some teams use advanced GPS technology, but not all. Using a compass is key.
Basic readiness for you and your dog:  What should be with you when you train?  Remember, a search and rescue emergency can happen in any and all weather.  Labrador Retrievers, in particular, do better in cooler, damp, rainy, or snowy weather and require additional support in extreme heat.  A call out for a team ca
n happen anytime, anywhere.
K9 first aid and CPR and AED usage: To make you more valuable to a search and rescue team, you will be given the opportunity to be certified in CPR/AED usage and patient/victim carryout from a heavily wooded area.  Remember, search and rescue personnel are there to support lead agencies, which depending on the state, will be either the local sheriff, or in Northeastern States and New England, the State Police.  In some states, especially in New England, the State Department of Fish, Game, and Wildlife will be the primary agency of responsibility. You will be prepared to take the appropriate online, free FEMA courses, so you understand the concept of incident command systems, which since 9/11/01, have been nationally standardized.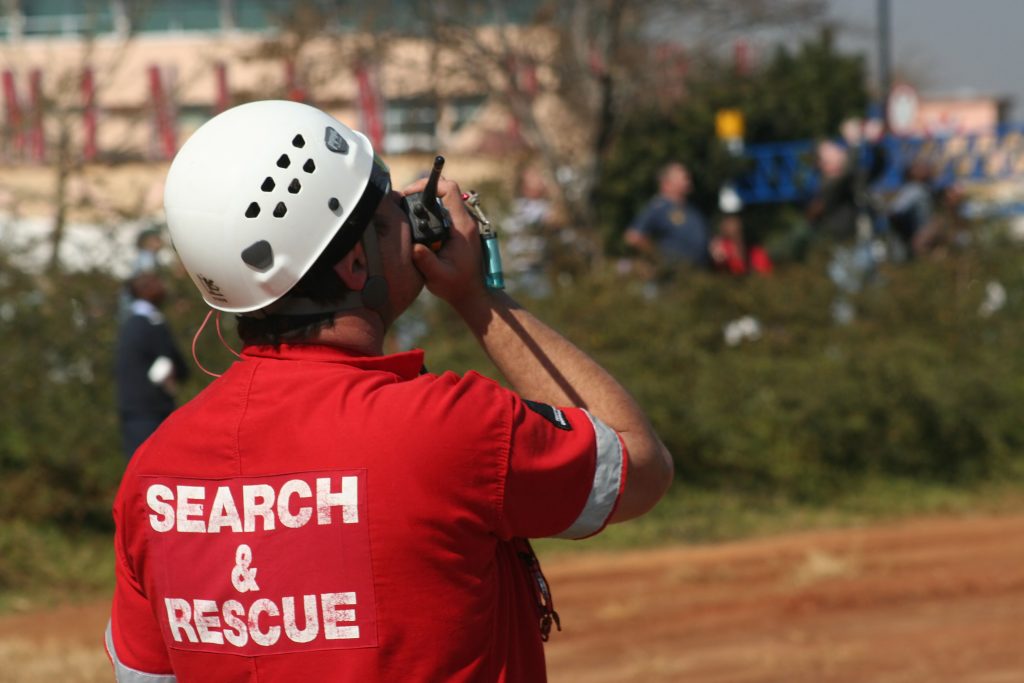 Hidden Pond Kennels is proud to introduce our new K9 Search and Rescue Academy with Labrador puppies specifically bred for search and rescue purposes. Since the idea for this undertaking manifested, we have worked diligently to ensure we have the best possible breeding stock specificaly for search and rescue dogs.  The Labrador puppies we breed for search and rescue come from long lineages of dogs bred for this purpose, as well as for superior hunting ability.
Purchasing search and rescue Labradors for sale
Labrador search and rescue puppies for sale through Hidden Pond Labradors also include a week long training class with John. You and the dog will train together in the classroom and in the field.
Before applying to purchase a Labrador search and rescue dog, please note that in every state, individual handlers must become (at the very least) SAR TECH III certified through the National Association of Search and Rescue for insurance purposes. Search and Rescue Training, like all training of dogs, requires a full commitment by the owner/handler after the class ends.
Our class will give you the necessary nosework and agility tools to join a search and rescue team as a probationary member, and work with the team and local and state authorities to ensure you are ready for the SAR TECH exam.
For more information regarding the K9 Search and Rescue Academy or any of our Labrador search and rescue dogs for sale, contact Hidden Pond Labradors via phone at 607-857-1461 or email at John@HiddenPondLabradors.com today.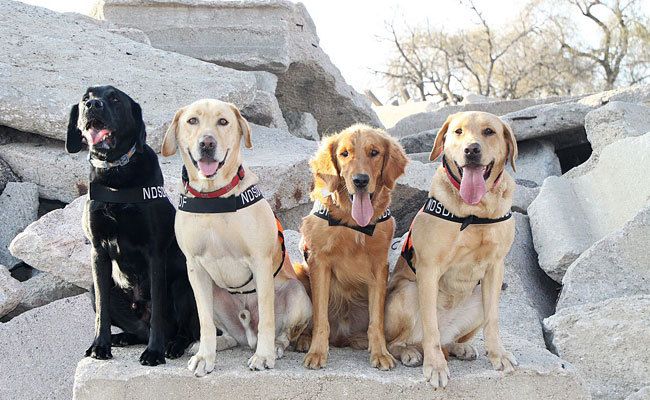 ---
WE SUPPORT THE AISOCC

YOU SHOULD TOO. HIDDEN POND IS A SUPPORTING MEMBER OF THE AISOCC