AKC-Certified Pedigree Labrador Stud Service
Breeding Labrador Retrievers is an incredibly fulfilling, and often lucrative, endeavor. When done right, a breeding program will also contribute to health and success of the breed as a whole, now and in the future. The key to creating and implementing a program that benefits the Labrador breed is to select thoroughly screened, top-tier studs and bitches to produce your litters.
If you're just starting out or operating a smaller breeding program, it is often quicker and more convenient to use a stud dog service, rather than spend the time and money it would take to establish your own studs. At Hidden Pond Labradors, we offer an AKC-certified pedigree Labrador Retriever stud service to meet the needs of breeders nationwide. Our stud services are fast, affordable, and guaranteed to produce premium quality Lab puppies when used with approved females.
Grand Champion Labrador Retrievers Available for Stud Services
Every Labrador stud in our current breeding program has achieved Grand Champion status. This means that our stud dogs are the best of the best examples of what the breed should be—the standard of how a Labrador Retriever should look and be built—as determined by a panel of experts that have singled them out.
A Grand Champion stud ancestry is important to a breeding program not just for the sake of producing puppies that can win awards and dominate shows. When a dog is built right, it will last longer. People seeking Labradors as pets will want to enjoy as many good years as possible with the dog they bring home, which means a Grand Champion pedigree will set your puppies apart from the rest, as it does for us.
Our Grand Champion Labrador studs are 100% clear on every genetic test that we have performed.
Just like our dogs, we hold ourselves to a higher standard than most other breeders in the industry. We do this not just to be able to offer exceptional-quality Labrador puppies and stud services, but because we want to do what is best for our dogs and the entire breed. One of our mottos here at Hidden Pond Labradors is that if there was something better we could do for our dogs, we would be doing it.
The genetic tests and health screenings we require for our Labrador studs are chosen based on their comprehensive genetic relevance. We don't just want the evaluations we take the time and money to acquire to be able to confirm a dog is in good health right now. We also want to be able to apply (or have customers apply) what we learn to preventative health strategies for dogs at risk for developing genetic conditions.
For example, we now choose to use the PennHIP test to assess our dogs' risk for developing hip dysplasia later in life, as opposed to the less-thorough OFA screening procedures. We do this because the PennHip test offers a more detailed evaluation that allows us and our puppies' future owners to be proactive in the event that a dog does carry the gene. If any of our genetic tests identify a dog as a carrier for a genetic defect, we do not breed them in our program or offer their stud services to others. We differ from many other breeders in this way, in an effort to help improve and preserve the purity of the Labrador Retriever breed.
Once our dogs have passed their genetic screenings, they must also meet our personality standards in order to become part of our AKC-Certified Pedigree Labrador Stud Service.
As passionate dog lovers ourselves, we understand at Hidden Pond Labradors that people don't choose a puppy because of its outstanding pedigree and genetic condition. Even if they do plan on showing their Labradors, people are still looking for a dog that will be a fun and loving member of their family. That's why, in addition to health, genetics, appearance, and ancestry, we also prioritize personality when choosing our stud dogs.
If a dog doesn't have that tail-wagging, body-wiggling, face-licking personality that puts an automatic smile on your face the moment you see them, then the other bells and whistles don't matter. Just like all of our Labrador puppies, we raise our stud dogs in our home as cherished members of our own family. With the love and care we provide, and the freedom of 87-acres of land to run and play on, they can't help but develop friendly, entertaining, loving, one-of-a-kind personalities. When you choose us for your Labrador stud dog service, those are the traits that get passed on to your puppies.
Hidden Pond Labradors breeds and raises black, chocolate, and yellow Grand Champion Labrador Retrievers for our stud service. We will collect the semen from your desired stud dog, which can then be used for side-by-side breeding or chilled and shipped to you anywhere in the nation. We do not offer natural penetrative breeding for our stud service.
To learn more about our Grand Champion Labrador studs, take a look at their biographies below. For more information or to inquire about using our Labrador stud dog services, contact Hidden Pond Labradors today. We will be happy to help you on your quest to produce litters of champion Labrador Retriever puppies!
Grand Champion George
Hidden Pond Labradors is now offering our own Certified Pedigree Labrador Stud Service. We breed black, yellow, and chocolate labs, some of which we offer as studs, shipping their semen nationwide to meet the needs of breeders.
George is our beloved chocolate Grand Champion Labrador Retriever stud. He comes from a long pedigree of Champions and Grand Champions and has been tested thoroughly to ensure his future litters inherit an exceptional genetic makeup. His coat is a shade of rich chocolate and build is strong. Although we like to refer to George as our "linebacker stud", his formidable stature does not take away from his silly, happy-go-lucky, and affectionate personality.
George is pure for chocolate, OFA Good for hips, normal for elbows, and EIC, HPNK, PRA, DM, and CVM clear. With a qualified bitch, he is sure to produce a winning litter of chocolate Labrador puppies.
Grand Champion Thunder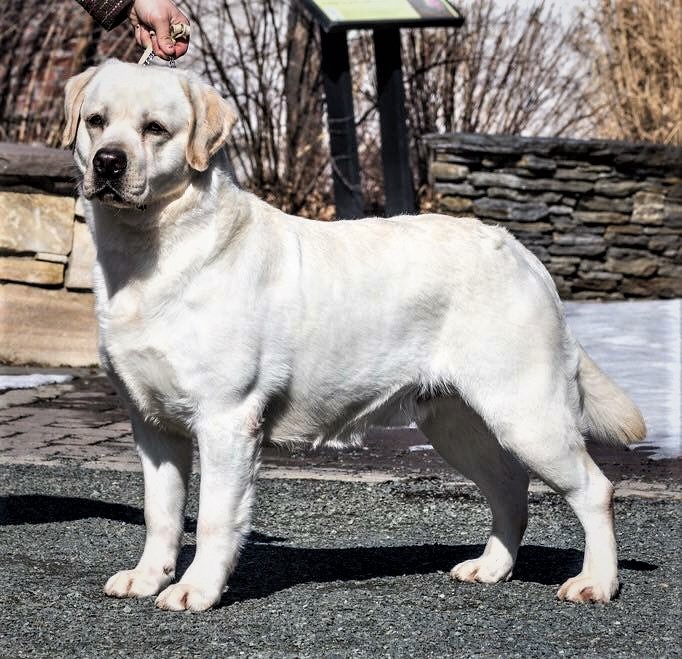 If you're looking for remarkable looks, outstanding pedigree, flawless genetics, and unparalleled happiness and charm in a Labrador stud dog, then Thunder is your guy. Thunder is a beautiful example of a classic yellow Lab. Grand Champion is not only in his title, but also extensively in his blood line. His face and demeanor exude the "come and play with me" personality he will pass down to his litters. He is also very respectful to our Labrador mothers—a true gentleman at heart.
Thunder is OFA Excellent for hips and normal for elbows. He is also clear for HPNK, EIC, PRA, DM, CNM, RDOD, CERF, cardiac echo, color doppler, and skeletal dysplasia 2. Thunder will make an ideal Labrador stud dog for your high-quality breeding needs.