Grand Champion George
Hidden Pond Labradors is now offering our own Certified Pedigree Labrador Stud Service. We breed black, yellow, and chocolate labs, some of which we offer as studs, shipping their semen nationwide to meet the needs of breeders.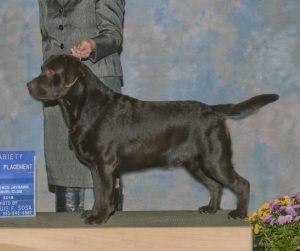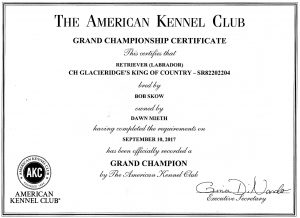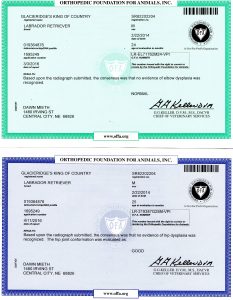 Our  stud dog is the Grand Champion "George", "Glacierridge's King of Country". He is sired by the Grand champion Epoch's Moccasine Joe and the champion Glacierridge Tabatha's Aggy. He comes from a long line of grand champions from some of the finest kennels in the country. He has a great personality as well as excellent good looks. He is an absolute pleasure to have here at Hidden Pond.
He is OFA good for hips and normal for elbows. He is clear on EIC, HPNK, PRA, Dilute, Echo cardiagram, and pure for chocolate. He is available to approved bitches for stud service.
Grand Champion Thunder
Our second Grand Champion stud dog "Thunder," "Windswept Thunderstorm at Chinars", is a sweet and playful Labrador with charm and good looks who has just completed his Grand Championship title. He is sired by the Gold Grand champion "Hail," "Blackthorn Hailstorm," from Chinar kennel. He has a long pedigree of champions in his blood line. Thunder is a beautiful dog with a loving come and play with me face that matches his personality.
He is OFA Excellent for hips and normal on elbows. He is clear for HPNK, EIC, PRA, DM, CNM, RDOD, CERF. He has cardiac echo clear, color doppler clear, and Skeletal Dysplasia 2 clear. He is available to approved bitches for stud service.
Stud Contract