When looking to add a puppy to your home, it's important that you choose the breed of dog very carefully, find the most trustworthy and exceptional breeder, and ensure that your future companion has an outstanding pedigree.
Breeding and lineage of your puppy's parents are essential factors to consider when selecting the right pup for you.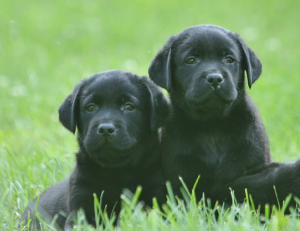 An exceptional breeder will have their bitches and sires tested for hips and elbows, as well as other genetic tests. These would include EIC, HPNK, PRA, DM, and CNM to name a few. This information stays very transparent so that you know everything about your pup's parents and will insure that your pup is being passed down only the best genetics. A champion bloodline is important as well. A champion or Grand champion title means that they have been seen by many experts in how a Labrador should be built and move. It is not a "beauty contest", rather an evaluation as to how this dog compares to the breed standard. If a dog is built correctly and moves correctly they are more likely to be healthy and to stay healthy. So by breeding to dogs that are the closest to these standards your pet has a greater chance of being built correctly.
If the parents display winning characteristics, your puppy is more likely to carry the same attributes.
The parents of your potential pup should be true testaments to the Labrador breed; strongly built, intelligent, and well-mannered. A sound temperament, winning personality and certified pedigree are essential in the parents if you would like any chance of your pup carrying on those traits. By requiring these characteristics in the parents, breeders can increase the likelihood that their litters will reflect those same characteristics.
At Hidden Pond Labradors, we use the highest quality sires, usually Grand Champions. When paired with the outstanding genetics of our girls who are usually sired by grand Champions, we can produce a litter of Labrador retriever puppies that display the most loveable and award-winning qualities, with black, chocolate, or yellow coats. If you are looking for well-bred puppies or exceptional stud dog services, give us a call at 607-857-1461 today.