Many years ago, my brother, who lives in California came home to find his long-time partner gone from the home. It was not too surprising considering they lived on a ranch in the wine country with streams and red wood trees. It was certainly a beautiful place to go for a walk. As the day turned to evening, the tension increased, and when he didn't return home by night fall, the worry and panic had settled in.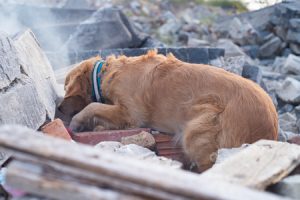 With no sign of him and no word from the neighbors, the authorities were called in. Of course, as is in every missing person case, the police had to consider foul play by my brother. Upon investigation, this was ruled out as the likely cause of the disappearance. The next procedure was to look for a lost or possibly injured man. Unfortunately, this was a difficult task as they lived in a rural area with few people and lots of open country of mountains, valleys, woods, and fields. There were many ravines and rough terrain making the searching very difficult.
After the authorities found no trace of my brothers missing partner, the devastating feeling of helplessness came upon my brother who was missing his loved one. There is no relief from the questions of not knowing if, not knowing where, and not knowing why. The days went on, and the torment of the questions never left my brother's mind throughout his daily routine. Day after day, week after week, and month after month went by without answers to the questions.
Then, on a Saturday morning there was a knock at the door. A group of strangers stood at the door with a couple of dogs. They asked for permission to try and help find the man missing for six months. They also asked for a piece of clothing that was worn by him, so the dogs could track the scent of my brother's partner. Six months of rain, wind, and sun had gone by, which raises the question: How would these dogs be able to track a scent of this man six months after he went walking. But these were trained search and rescue dogs. The dogs led the handlers directly to where he was in a deep wooded ravine. The dog went directly to the body. The other dog went directly to the walking stick a few yards away that he had been using.
Everyone always hopes for the best possible outcome, but the relief of finally knowing is almost palpable. The healing and closure that the volunteers and their dogs brought was such a benefit that it makes their time, effort, and money spent well worth it. Without them, the questions would persist, and the thought of not knowing would strangle anyone's mind. We thank these Search and Rescue dogs and the volunteers for all that they did.
Hidden Pond Labradors trains search and rescue dogs for these types of cases. Whether there is a missing person, natural disaster, or you're looking to track a loved one who is lost, we have those loving and caring dogs for you. Please contact us at 607-857-1461.